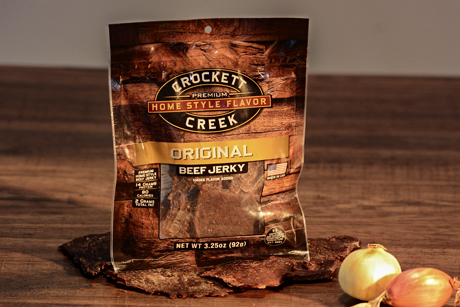 Crockett Creek's Original Beef Jerky is where it all began. This tried-and-true recipe was perfected decades ago in our family kitchen, and it is still a fan-favorite today. Our marinade and spice blend make this tender beef jerky sweet, salty, and smoky—everything you need in one perfect bite. Be careful, though, because once you have that one bite you'll keep coming back for more.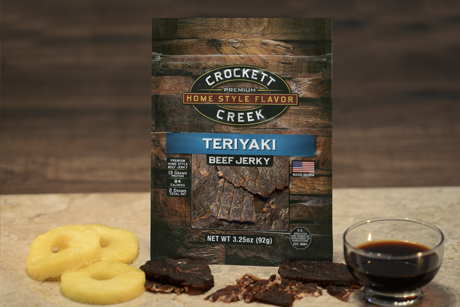 Teriyaki has always been one of the most popular beef jerky flavors, and as soon as you taste Crockett Creek's Teriyaki Beef Jerky, you'll understand why. We marinate this jerky in a blend of Asian spices and sauces, including ginger, garlic, pineapple, and soy sauce. And don't worry—we've left the heat out of the mix so that everyone can enjoy this sweet, tangy beef jerky.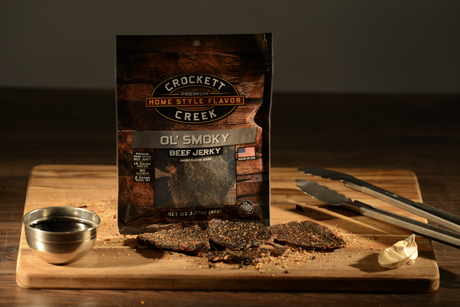 Crockett Creek needed a jerky flavor to show off our Tennessee roots. We created Crockett Creek's Ol' Smoky Beef Jerky to take you back to family camping trips spent sitting around the fire. Liquid smoke gives this jerky a rich, smoky flavor that is then balanced out with a touch of sweet and a smidge of heat to give you the perfect savory snack while hiking in the Great Smoky Mountains.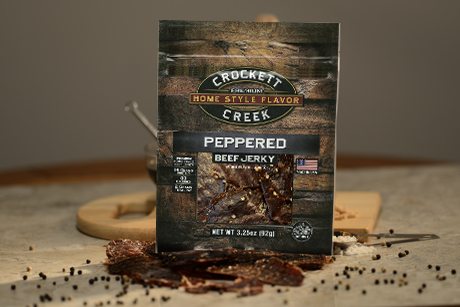 Take our original Southern jerky recipe, add some pepper and other spices, and you've got the much-sought-after Crockett Creek Peppered Beef Jerky. The pepper gives this jerky an even more savory, tender taste that will make you feel like you're back home enjoying your mama's homemade Southern cooking. With just a dash of heat, this beef jerky has enough flavor to be a full meal or a hearty snack on the go.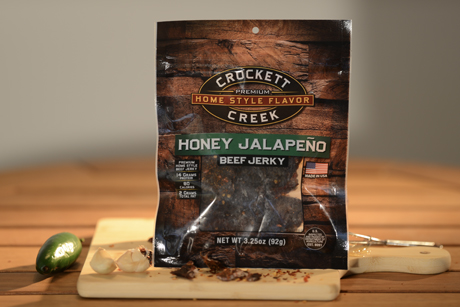 If you like sweet heat, Crockett Creek's Honey Jalapeño Beef Jerky is the snack for you. We've added some south-of-the-border spice with real jalapeño, creating a heat that slowly builds as you eat. We boost the flavor with just enough honey to balance out the spice and soothe your taste buds. Forget about choosing between sweet jerky and spicy jerky; Honey Jalapeño gives you the best of both worlds in one satisfying bite.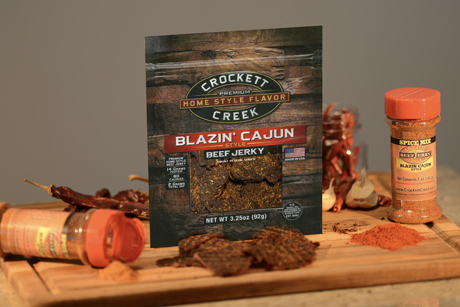 Crockett Creek is taking you all the way down south to Louisiana with our Blazin' Cajun Beef Jerky. Cajun food is known for its strong flavors, and that's exactly what you get with this beef jerky. Blazin' Cajun gives your mouth a party of flavor, with a subtle hint of sweetness, a touch of smoke, and just enough mild heat to make you feel like you're spending a summer night in the Bayou.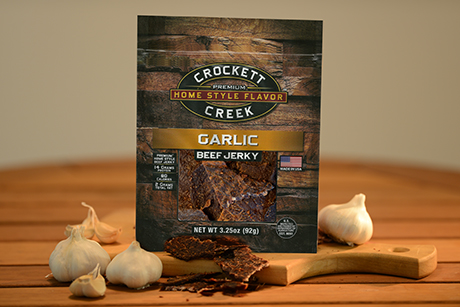 Calling all garlic-lovers! If you agree with us that garlic makes everything better, then you will love Crockett Creek's Garlic Beef Jerky. Most of our jerky recipes have garlic powder, but we knew that wasn't enough for true garlic enthusiasts. So, we added real garlic to our original Southern jerky marinade to make garlic the star flavor of our Garlic Beef Jerky.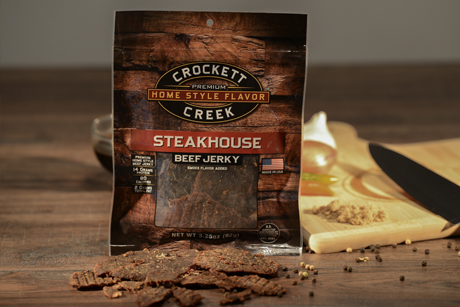 We've all been there—you want a hearty steak dinner, but you don't have enough time to stop at an expensive steakhouse. The answer to all your problems is Crockett Creek's Steakhouse Beef Jerky. We marinate this handcrafted jerky in authentic steak sauce and spices to make it taste just like that juicy steak you're always craving. Now, you can have your steak and eat it too.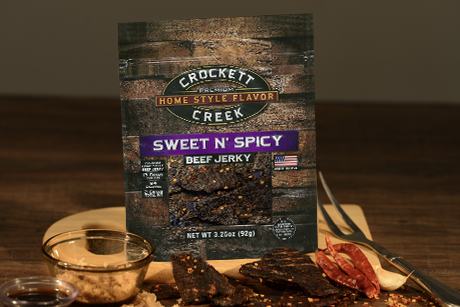 Sweet? Or spicy? It's so hard to choose! Luckily, you don't have to. Crockett Creek's Sweet N' Spicy Beef Jerky will satisfy both your sweet and spicy jerky cravings, all in one bite. Your taste buds will first be greeted with a brown sugary sweetness then assaulted with a spicy, peppery kick. This timeless balance of sweet and spicy flavors will keep your mouth watering for another bite.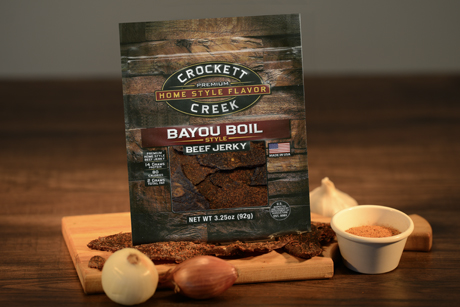 Bayou Boil Beef Jerky
If you want to feel the heat of a Bayou summer, take a bite of Crockett Creek's Bayou Boil Beef Jerky. We add a few shakes of spicy Cajun seasoning to our Southern jerky marinade, giving it just enough of a kick to bring a little sweat to your brow. All the natural spices in this jerky work together to create an exciting home style taste that will have your mouth doing a Mardi Gras dance.
Crockett Creek's Fire Beef Jerky lives up to its name, so if you like foods that pack a punch, then you will love this jerky. You are guaranteed to get a nice burn with every bite that will have your eyes watering and your tongue begging for more. Because we use a variety of peppers and hot sauces in our Fire marinade, the heat is paired with layers of different flavor notes that will keep your mouth intrigued.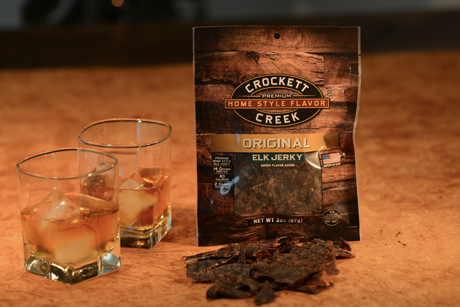 Crockett Creek took an already healthy snack and made it even healthier by replacing our classic beef with elk. Elk meat is lean, high in iron and protein, and very low in fat. To make Crockett Creek's Original Elk Jerky, we use our original Southern jerky marinade and spices, giving our Elk Jerky that same chewy, tender texture and home style taste with just a hint of mild game flavor.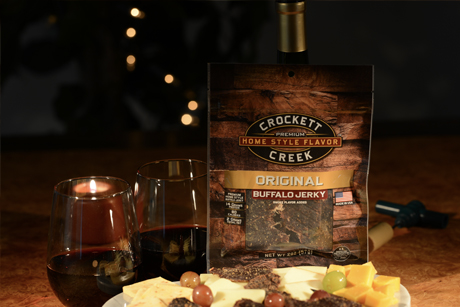 Original Buffalo Jerky
Crockett Creek's Original Buffalo Jerky elevates jerky to a whole new level. Buffalo meat is high in protein and low in cholesterol and fat, which is why it's endorsed by the American Heart Association and a popular choice for our health-conscious customers. Once you taste the perfect pairing of our original Southern jerky marinade with the juicy flavors of buffalo, you'll be hooked for life.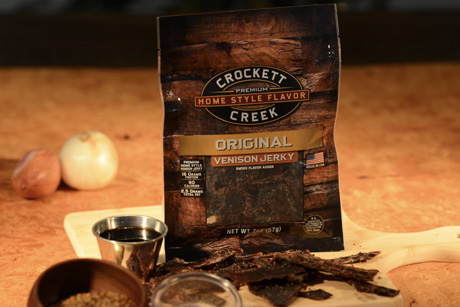 When you want a handcrafted jerky that's as natural as possible, reach for Crockett Creek's Original Venison Jerky. We use all-natural ingredients to deliver a high-protein, low-fat jerky with bold home style taste and a mild game flavor that will make you feel like you're out walking through the woods. This healthy snack will give you the energy you need during hunting trips and other outdoor activities.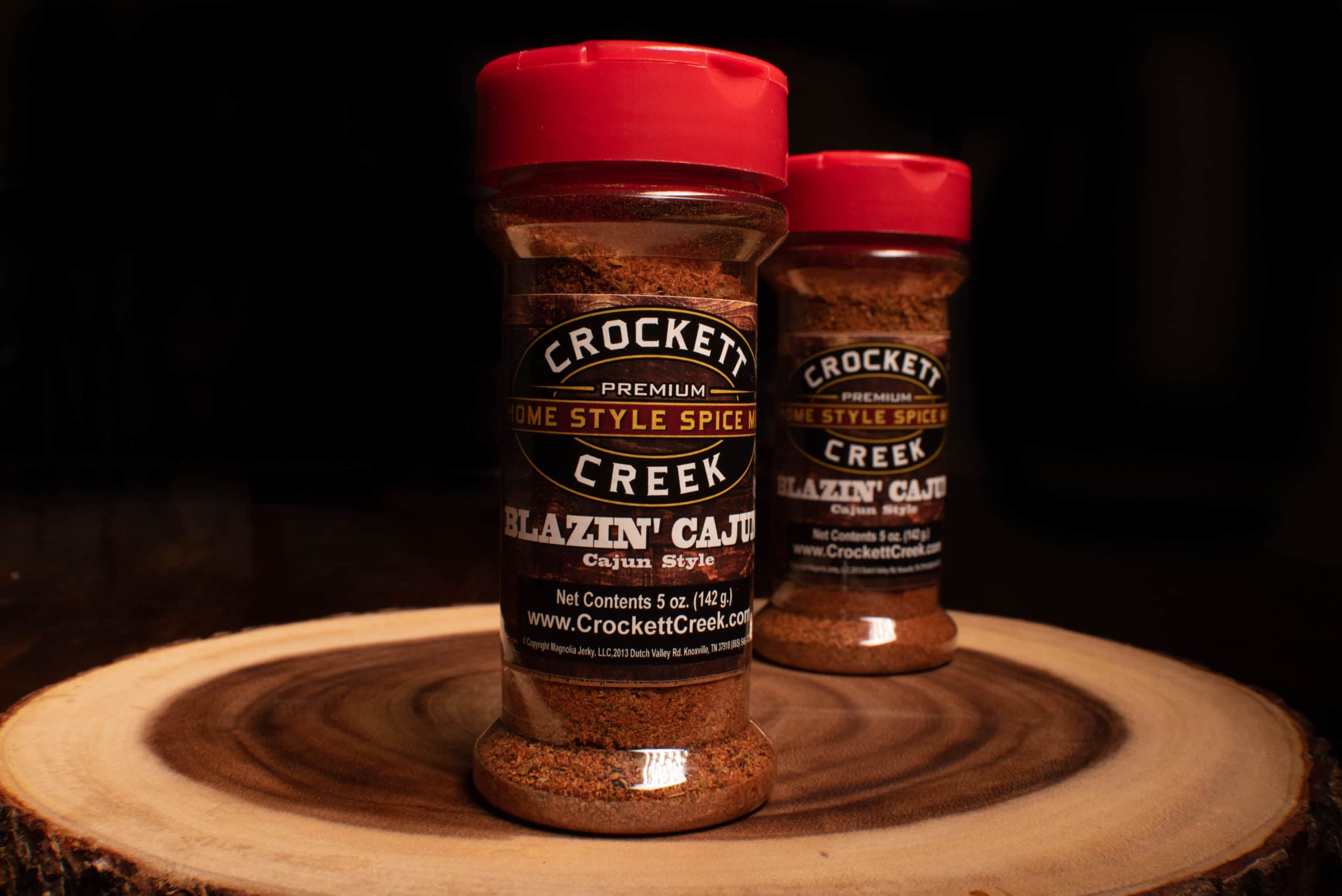 Know a home cook who could use a little more spice in their life? Crockett Creek's Blazin' Cajun Spice Mix is a special blend of mild Cajun spices and seasonings that will add home style flavor to any dish. Chicken, pork, beef, fish, vegetables—everything tastes better with a little Blazin' Cajun. Crockett Creek's Blazin' Cajun Spice Mix is all-natural and contains no MSG, so whoever said healthy can't be delicious has clearly never tried this spice mix.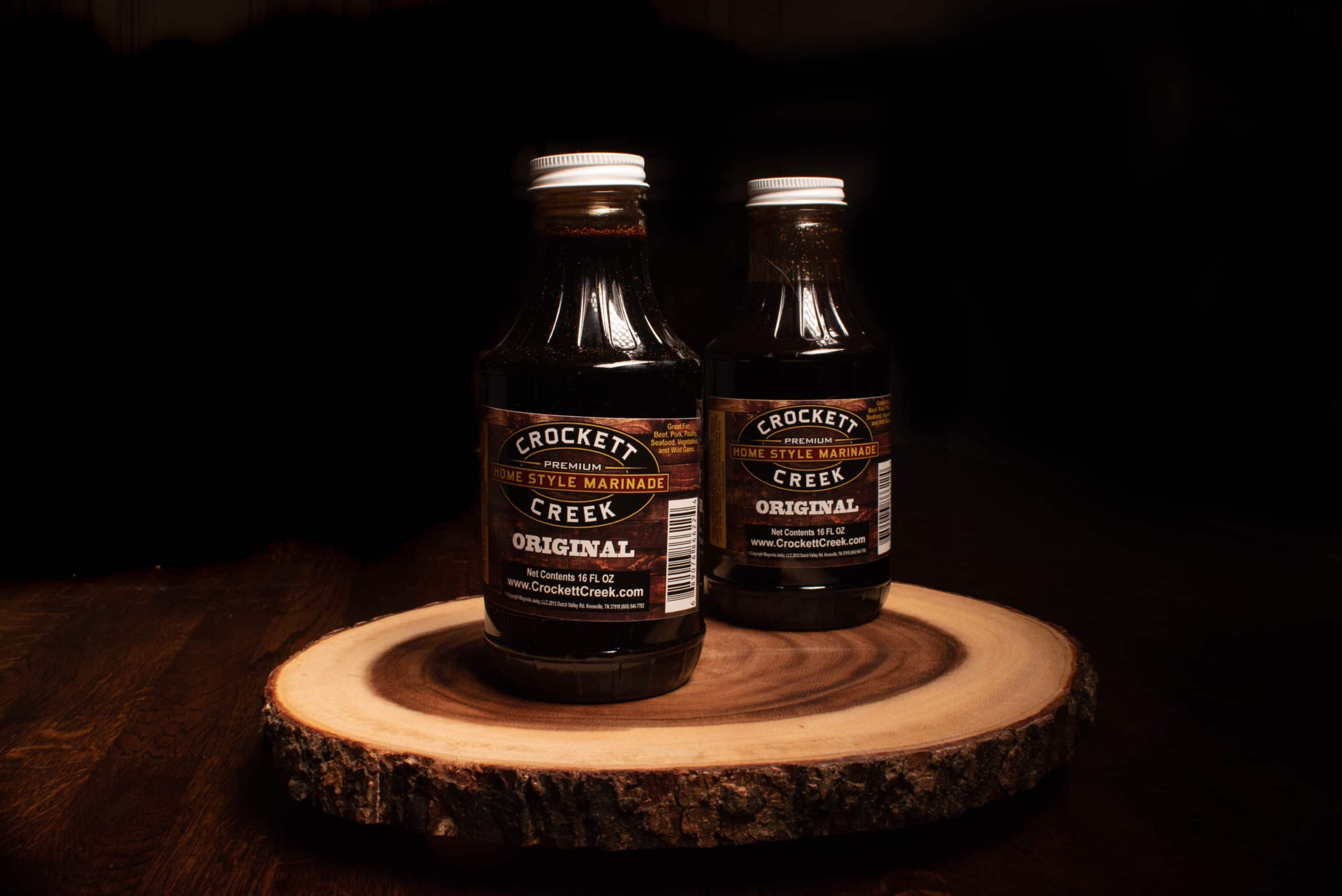 Original Marinade
Bring Crockett Creek's home style taste to your kitchen with Crockett Creek's Original Marinade. This is the same marinade we use in our jerky recipes, so you know it's delicious. But don't take our word for it—try it for yourself in your own kitchen. This marinade contains all-natural herbs and spices that will add an explosion of smoky, sweet, salty flavor to poultry, beef, pork, wild game, vegetables, and anything else you're cooking up at home.