Crockett Creek uses only the highest quality ingredients and techniques to make our premium handcrafted jerky. Our family of employees has over 330 years of combined experience in the food industry, and we make all our jerky in our own 40,000 square-foot facility, which is fully equipped, staffed by professionals, and has on-site USDA inspectors to ensure our products meet all USDA guidelines.
Crockett Creek currently makes over 4,000 pounds of jerky each day, all of which is sourced, produced, and packaged in the United States. Our facility has the capacity to do much more to meet increases demand as well. Our capabilities include:
Raw product sourcing
Complete refrigeration and freezing as required
Weighing, bagging, and shipping
All butchering and production of raw product
Grinding and forming equipment for all extruded products
Marinade production
Dehydrating smokehouses
Automated packaging machine
Because Crockett Creek is committed to providing jerky with premium quality and consistency, we only use American inspected meats and the best spices and ingredients available. We continually test our products to guarantee a satisfying taste in every bite. As part of our Southern roots, we believe in treating all our customers with respect by supplying healthy and delicious food products and welcoming any and all concerns and feedback.
Interested in learning more?
Please fill out the form below to learn more about becoming a Crockett Creek partner. We look forward to welcoming you into our ever-growing family.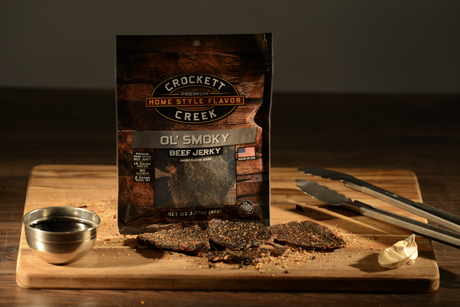 Ol' Smoky Beef Jerky
Crockett Creek needed a jerky flavor to show off our Tennessee roots. We created Crockett Creek's Ol' Smoky Beef Jerky to take you back to family camping trips spent sitting around the fire. Liquid smoke gives this jerky a rich, smoky flavor that is then balanced out with a touch of sweet and a smidge of heat to give you the perfect savory snack while hiking in the Great Smoky Mountains.